VS 2.0 is coming soon, and we want to make sure we have the best possible info for your troop. Complete this easy form and let us know all your details. 
Continue >

The Cookie Program is more than a sale, it is a financial literacy and entrepreneurship strengthening exercise for girls in the Girl Scout Movement! Get all the knowledge you need to make this the best year ever. Get ready, get set, and go with More than Cookies!

Continue >

It's a new school year and an exciting Girl Scout year! With the guidance and support of volunteers, Girl Scouts can go as far as their imaginations will take them. We know this can be a challenging time, so we are providing the tools and resources needed to support a fun Girl Scout experience. 
Continue >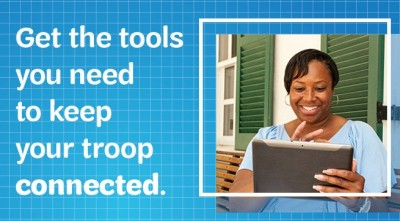 New troop year? Bring it on!

Keep your troop going strong with these specially adapted badges, Journeys, and activities for virtual and safe in-person meetings, as well as current COVID-19 guidelines and resources. We're here to support you as you help your troop thrive.
Continue >
A Pop-Up Shop + Program is coming to a town near you!  We bring uniform components, seasonal fun patches, casual wear and more. In addition, we will have a special, super fun program activity. We are excited to see you soon!

Continue >

Start assembling your troop gear with easy on-line shopping and free shipping until December 31. See all the lastest fashion updates and uniform essentials now. 
Continue >