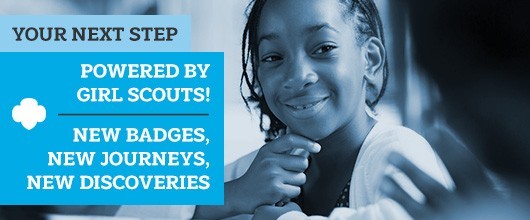 2019 Spring Membership Renewal, May 1 - June 18
Your Next Step, Powered by Girl Scouts!
New Badges, New Journeys, New Discoveries.
 What path will you choose next year? With new programs in outdoor adventure and STEM and the promise of dozens of new skills to learn and awards to earn, at Girl Scouts the trail is yours to blaze. You're a force to be reckoned with, and we can help you unleash more of the unstoppable potential - in a place that's all about championing girls' success. Whatever the next step looks like for you, we can help make it happen.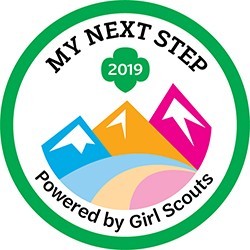 Girl incentive: Each girl who renews her membership before June 18 will receive the above Spring Renewal patch by September 1.

Leader | co-leader | troop helper | troop coordinator incentive: Renew your troop and all adults receive 50% off Kaleidoscope day registration and two Spring Renewal patches.
Event incentive: Troops that renew 80% of their troop and two adults by May 15 receive free day pass registration for Circle the City, and $2 person registration for the overnight portion of this event at the Indiana State Museum, October 19-20, 2019.
Troops who renew between May 16 and June 18 receive free day pass registration for Circle the City. All troops who renew 80% of their troop and two adults by June 18 will have early registration (July 8) for Circle the City to reserve your spot.
Some of the activities will include a special Girl Scout rate at the Indianapolis Zoo, a tour of Victory Field courtesy of the Indianapolis Indians. Hands on exhibitors, fun run around the canal, tours at the state capitol, partnerships with local businesses downtown, DJ dance party, and much more!


Service unit incentive: Two service units will be given the opportunity to rent out a portion of any Girl Scouts of Central Indiana camp facility free of charge based on their girl goals. Highest registration percentages of service units will be calculated from service units with less than 250 girls and from service units with more than 250 girls.
 

Renewal continues through June 18.  View our five minute renewal tutorial that walks you through how to renew your troop, yourself, and girls. No paper registrations accepted.